We are excited to announce our Choose Homemade 2023 Nutrition Calendars! We keep busy families in mind every step of the way when creating these recipes. They are quick, tasty, healthy and easy to prepare with minimal cleanup. Each recipe is certified healthy by ONIE Registered Dietitians and are developed using the MyPlate food groups.
We wanted to share some of the ONIE team's favorite recipes below
Cilantro Lime Shrimp Bowl – Linda Davila-Herrera, Project Dietitian
This recipe is ready to eat in 30 minutes and is full of flavor! The shrimp are a great source of omega-3 fatty acids while the rice and black beans are full of fiber. If you ask Linda, she's a fan of anything with lime.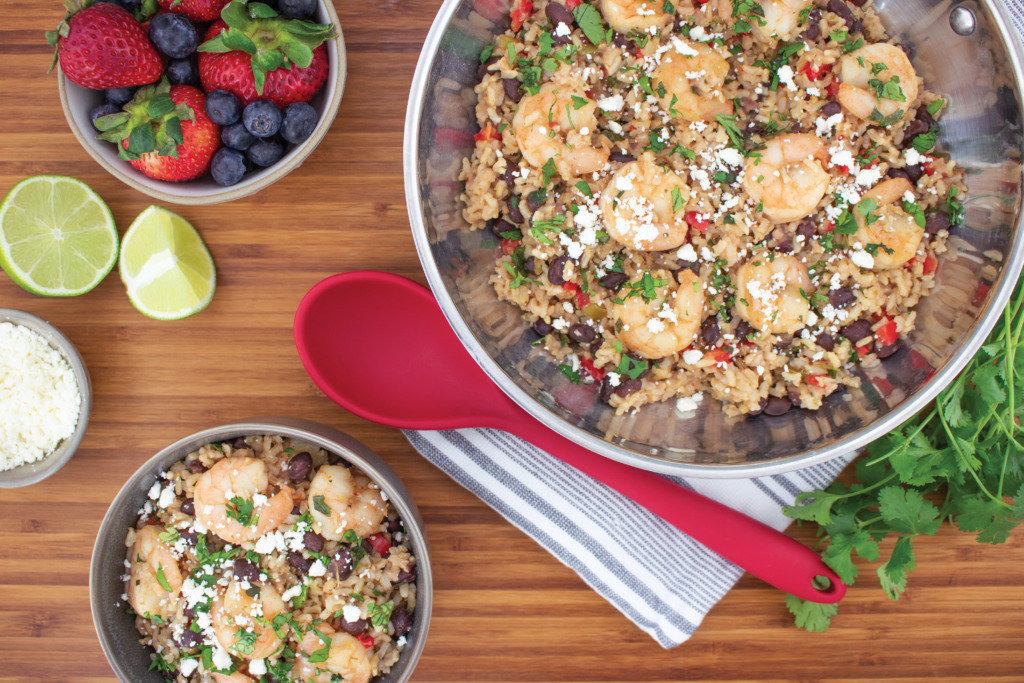 Garlic Herb Beef Skewers – Kaitlyn Reed, ONIE Fellow & Alannah Fenner, Administrative Assistant
These skewers make a great weeknight meal that only takes 30 minutes. Beef used in this recipe is a great source of iron and protein and the bell peppers are good for vitamin C. Make sure to serve with brown rice for a source of grains!
Chicken Tabouli Salad – Will Lewis & Jessica Gebhart, ONIE Fellows
The fresh flavors of the lemon, cucumber, tomato, and herbs bring life to the satisfying hearty flavors of the chicken and rice in this dish. This recipe is ready in 45 minutes and is a great source of grains, protein and vegetables.
Cajun Mac & Cheese – Conner Kline, Graphic Designer & Alexia Davila, Project Dietitian
This recipe is a family favorite and is done in 30 minutes or less. A nutritious twist to the traditional mac & cheese. Using whole wheat pasta adds plenty of fiber to help fill you up!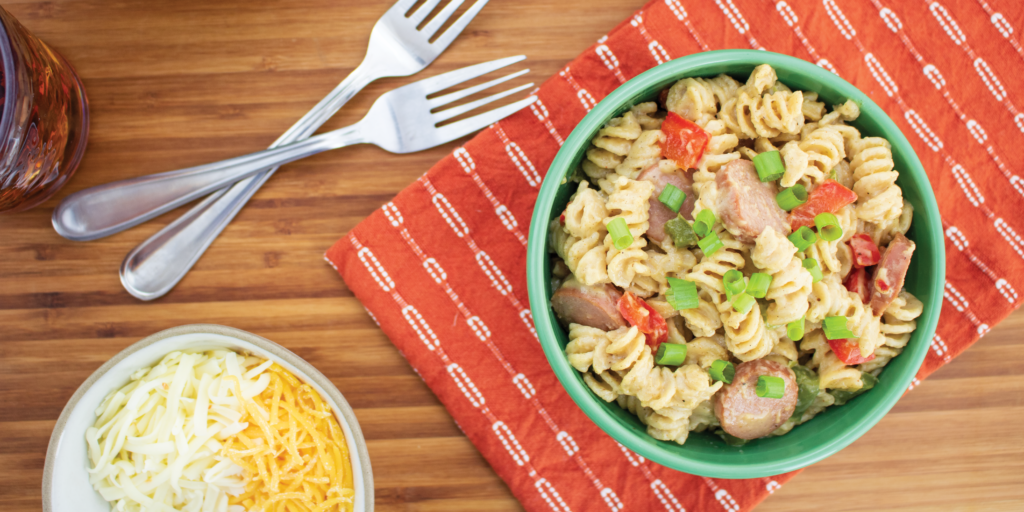 Pork Banh Mi Sandwiches – Catherine Oberpriller, ONIE Fellow
Looking for the perfect party dish? These sandwiches are filled with flavor and serve 8 in just one recipe. This dish meets 4 of the Myplate food categories- grains, vegetables, protein, and dairy.
Red Chili Shrimp – Emily Ellis, ONIE Fellow
If you love shrimp, you'll love this recipe! This zesty dish is packed with flavor, fiber, protein and healthy fats. Done and ready to eat in 30 minutes! If you make the sauce ahead of time, it can be made even faster.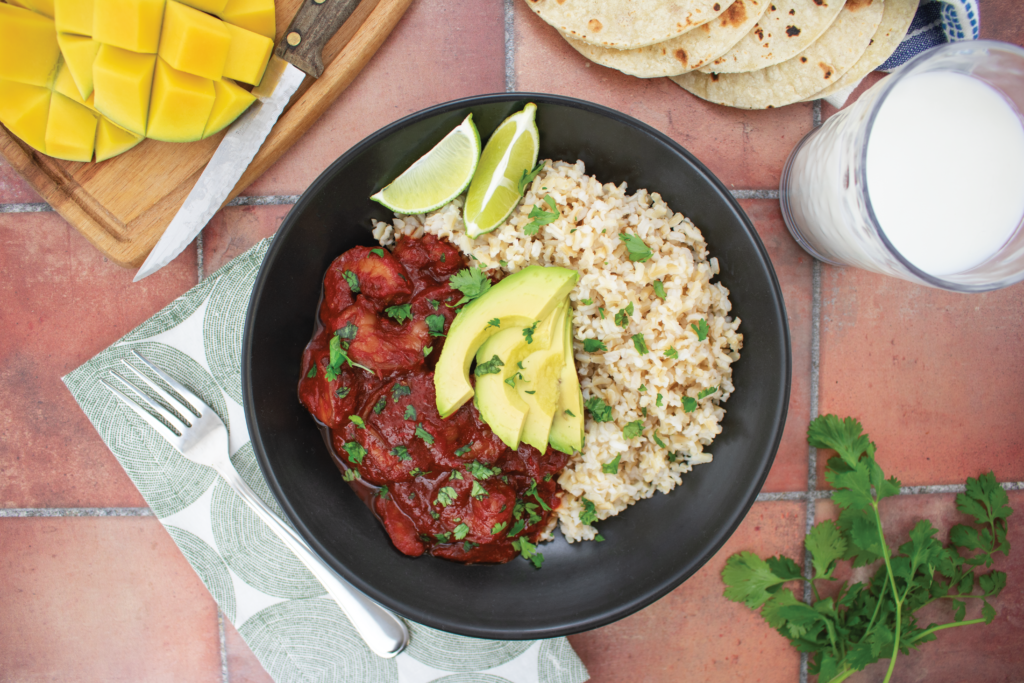 Crunchy Walnut Asparagus Salad Bayleigh Acosta, Marketing Specialist
You will love the crunch that the walnuts add into this salad! This recipe is full of fiber, essential fatty acids and vitamin K. A great staple salad done in 15 minutes with an easy cleanup.
Quick Chicken Parmesan Diana Prieto, Community Outreach Coordinator
Crispy, saucy, and cheesy is how we would describe this recipe. Ready in 30 minutes and a family favorite. Pairs well with your favorite steamed vegetable.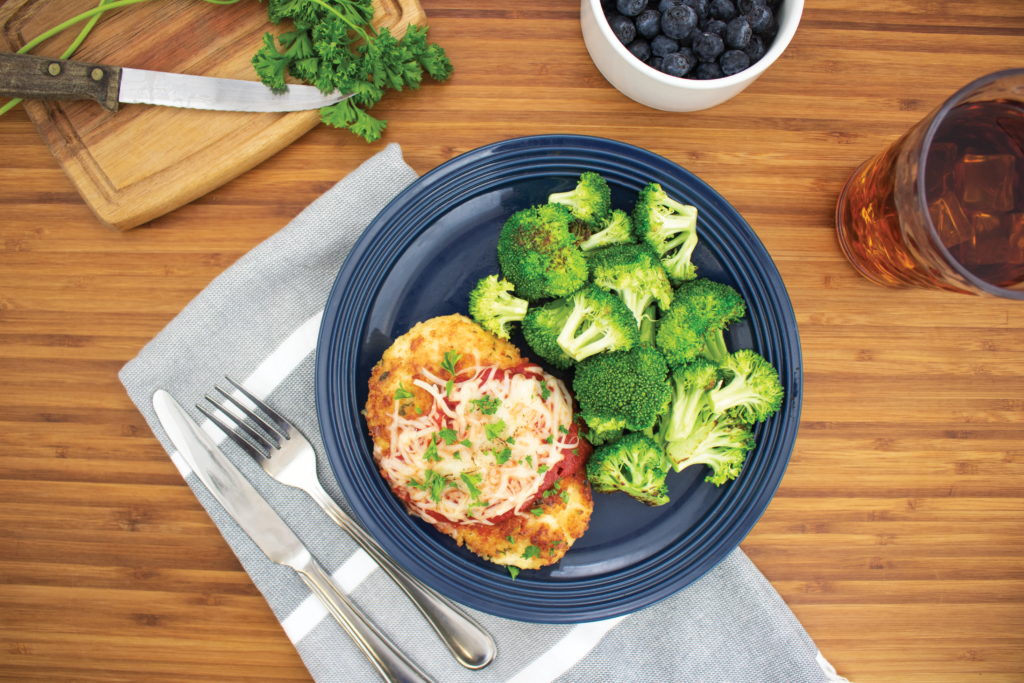 Sheet Pan Shrimp Fajitas Andrew McCracken, Communications Manager
This recipe is easy to prepare and just needs the oven to cook! It's also great for leftovers that you can take for lunch the next day! This dish is full of color, omega-3s, vitamin C and protein!
More of our favorite calendar recipes down below:
We hope you try out all the recipes in our new 2023 calendar, let us know which ones you're looking forward to trying in the comments below.
And please remember when you do get your hands on our new calendar to please scan the QR code on the back page to let us know how we can make our calendars better next year!