Fall has arrived and with it, sweet potatoes! In Oklahoma, the best time to plant sweet potatoes sprouts, called "slips," is in May or June. Sweet potatoes are in their prime season July through December. When shopping, choose sweet potatoes that have smooth, firm skin without bruises, cuts, or wrinkles. Store sweet potatoes in a perforated plastic bag in a cool, dark place and do not store them with onions as potatoes can cause onions to spoil quickly.
Want to find a Farmers Market that is close to you? Click here to search our map to find a Farmers market today!
Click here to get one of your own in-season produce guides.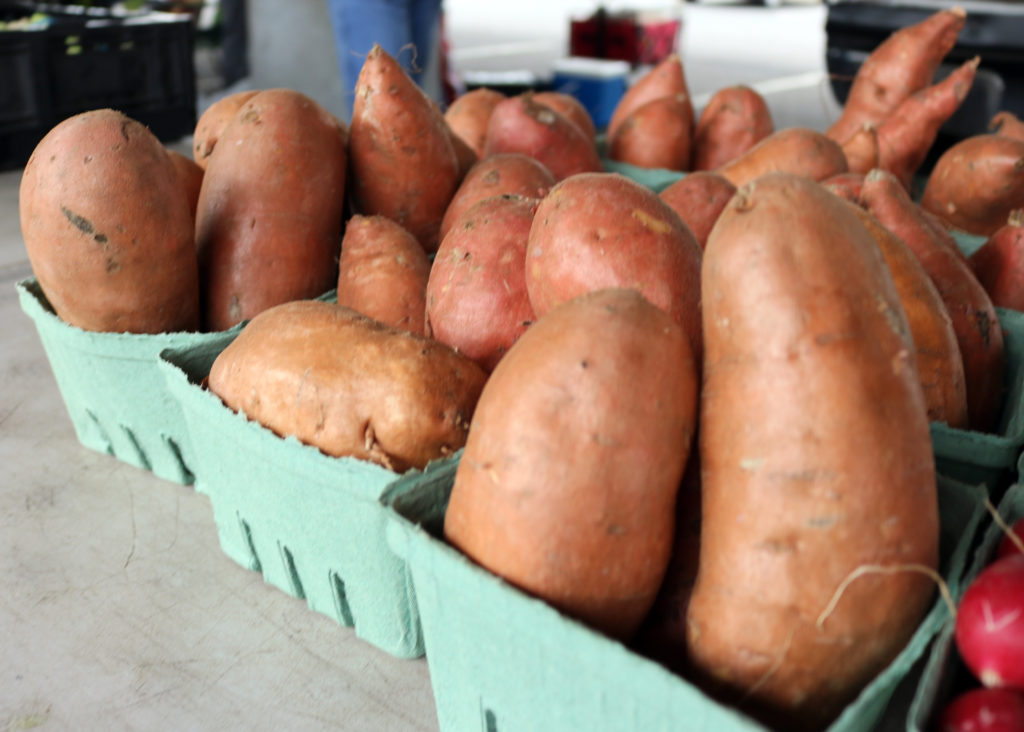 Sweet Potato Varieties
Sweet potatoes come in many different skin (outside) and flesh (inside) colors. Centennial and Jewel sweet potatoes are popular varieties grown in Oklahoma that are orange inside and out. Other varieties of sweet potatoes have purple skins or cream-colored flesh.
Nutrition
Sweet potatoes, like carrots and other orange-colored vegetables, have a lot of beta-carotene, a type of Vitamin A. Vitamin A is important for skin and eye health. Sweet potatoes are also high in dietary fiber, especially if you leave the skin on! Fiber is great for digestive health and lowering blood cholesterol.
Recipes
Sweet potatoes are a great way to add flavor and nutrition to all kinds of recipes.
Try sweet potatoes on the side with Chili Lime Roasted Sweet Potatoes.
Sweet potatoes can also be used in soups and chili! Chipotle Turkey Chili is a hearty and easy one-pot recipe.
Sweet Potato Turkey Bake is a low-sodium, flavor-filled casserole that is ready in 30 minutes!
Or check out this healthy take on the Classic Sweet Potato Casserole.