Looking for Dinner on a Dime? Let ONIE make shopping for affordable (& healthy!) ingredients easy. Check out these tips for planning low-cost, tasty meals. We also include easy, delicious recipes that cost less than $2 per serving!
Tips for Shopping
Try meatless protein options.
Swapping meat and poultry for a meatless protein for one or more dinnertime meal each week can help save money, while still providing plenty of protein. Try using plant-based proteins like beans, lentils, chickpeas and tofu for some of your meals during the week. You can also save costs by using eggs in place of meat.
Try frozen fruits and vegetables.
Frozen produce can help reduce food waste and save costs, especially when produce is out of season. It can also help you reduce your number of grocery store visits. Did you know? Frozen fruits and vegetables are just as nutritious – sometimes even more nutritious – as fresh fruits and vegetables.
Fruits and vegetables cost less when they are in season. Try planning your shopping list around which fruits and vegetables are in season. Farmers markets are a great place to find affordable, local produce. Find a farmers market near you, here: https://onieproject.org/farmers-markets/. Find out what is in season here.
Meal Planning
Planning meals ahead of time can help save you time and cost. Here are some tips to help you get started.
Write down meals that you plan to make for the whole week.
Theme nights can make meal planning even easier. If you know every Monday will be 'Meatless Monday' and every Friday is 'Stir-Friday', then you already know what ingredients you will need each week. Also, try choosing recipes with similar ingredients to keep your shopping list shorter and lower cost.
Create a grocery list before shopping.
Set aside time to write your grocery list. Have your list of recipes for the week handy to make writing your grocery list even easier! Once you have your list, check your pantry and fridge for items that you might already have and cross them off.
Meal prepping can help you save time throughout the week. It can also help you include more fruits, vegetables and new flavors into your meals. Try setting one or two days out of the week for meal prepping. Meal prepping can range from chopping veggies to save time later, to preparing and freezing a casserole to reheat on a busy night and everything in between. Find what works well for you. Have your family help out to make the process go quicker!
5 'Dinner on a Dime' Recipes
Try making these 'Dinner on a Dime' recipes! In addition, we included 1 shopping list for all 5 recipes.
1. Orange Cashew Chicken $1.95/Serving
Create the sweet flavors of takeout at home with this quick recipe. Orange Cashew Chicken is ready in 30 minutes and can serve 6!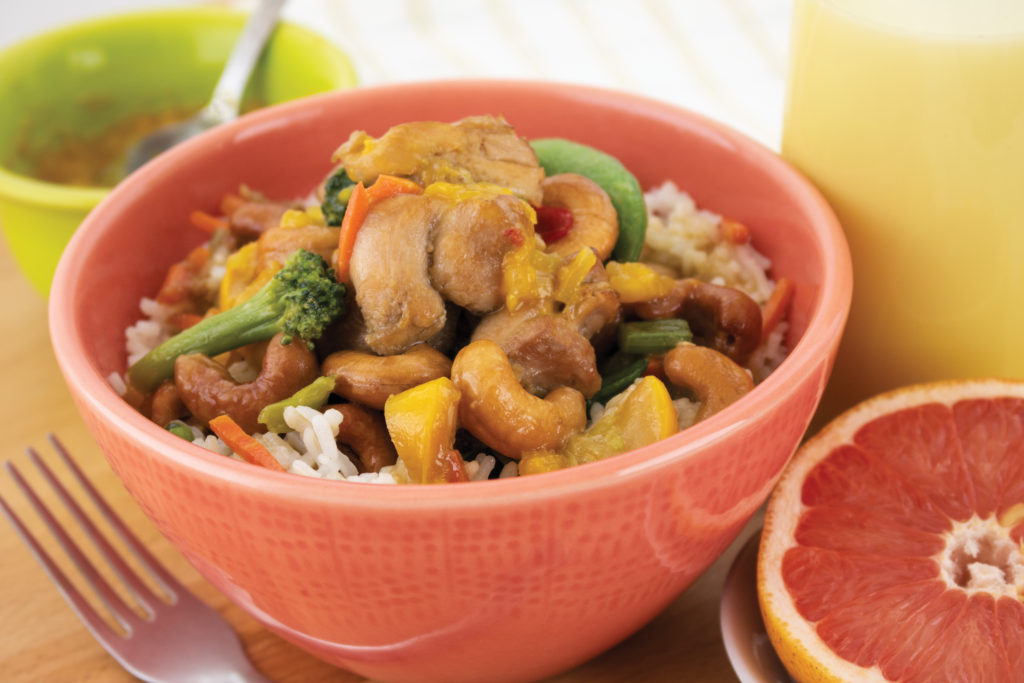 2. Spicy Chicken with Avocado Salsa $1.34/Serving
This recipe adds a little spice with cayenne pepper but keeps it fresh with cool avocado salsa. Save time in the kitchen and store with this 30-minute recipe that uses just 9 ingredients!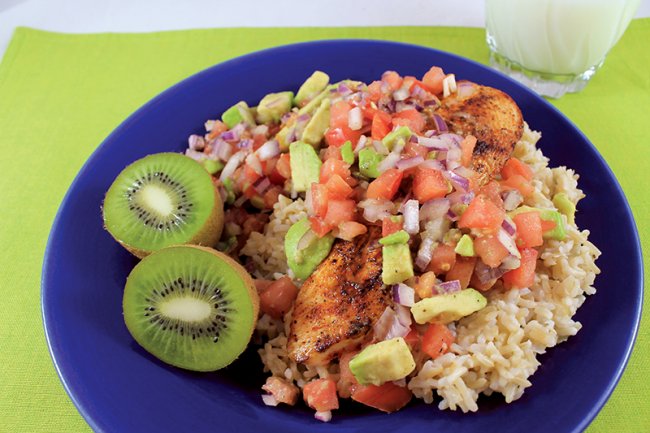 3. Roasted Rosemary Chicken & Veggies $1.76/serving
This recipe makes cooking and cleanup easier by baking all the ingredients in one pan.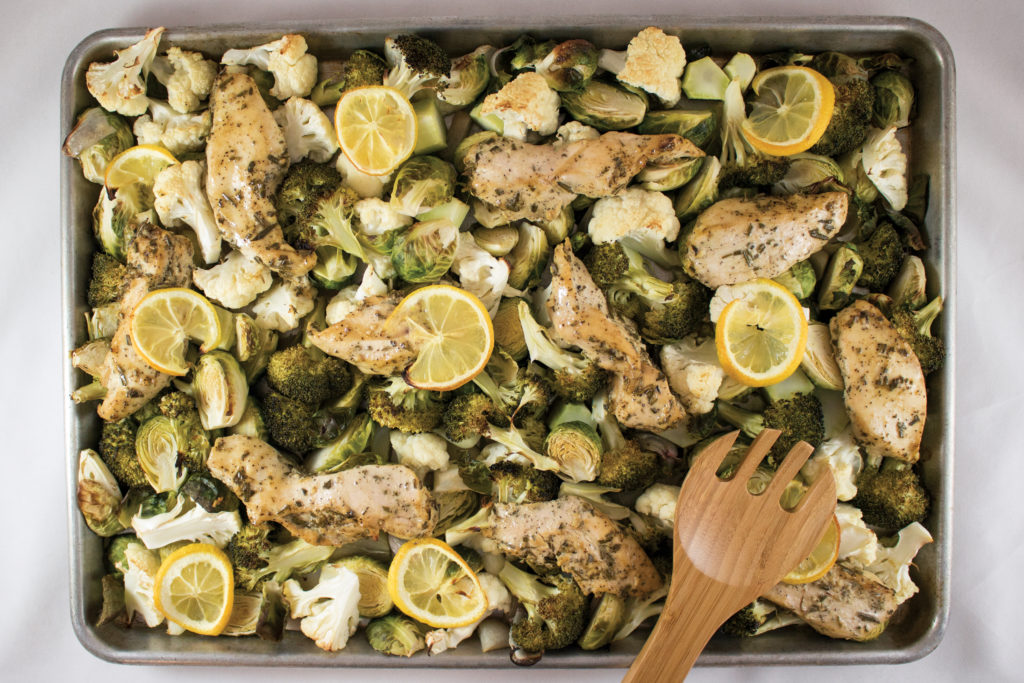 4. Curried Chicken & Spinach $1.02/Serving
This recipe is low cost and flavorful. Try out the delicious taste of curried chicken in only 20 minutes!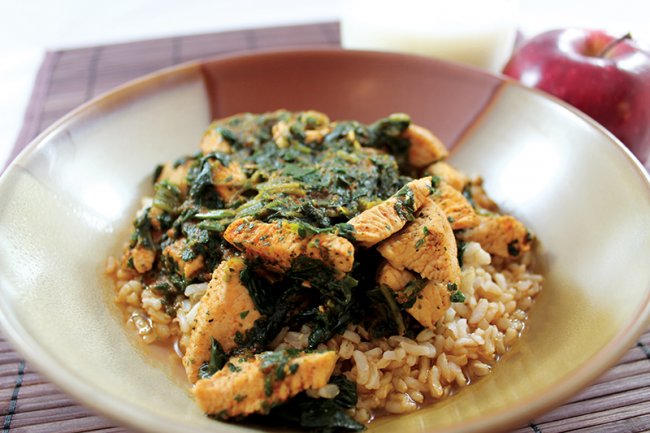 5. Avocado Black Bean Enchiladas $1.72/Serving
Bring something new to the table with this exciting enchilada recipe! Also, this recipe also makes it easy to try a tasty meatless dinner.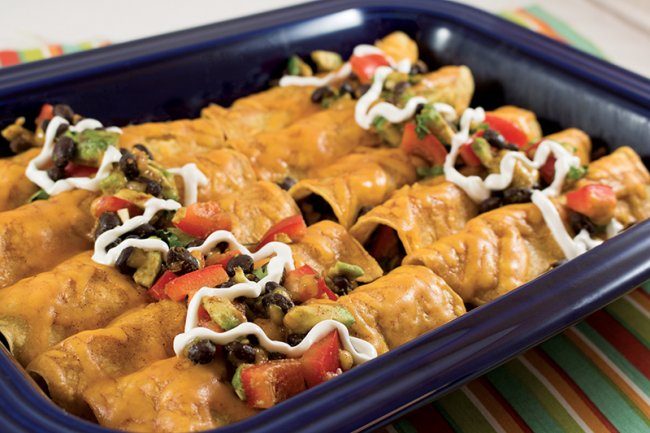 Shopping List
Meat/Poultry
5 lbs boneless, skinless chicken breasts
Produce
1 lb Brussel sprouts
2 medium yellow onion
1 medium red onion
1 lemon
1 (0.5 oz) container fresh rosemary
2 garlic bulbs
4-5 green onions
1 (52 fl oz) carton orange juice
1 tomato
1 lime
3 large avocados
1 large red bell pepper
1 medium jalapeno
1 bunch fresh cilantro
Dairy
1 (8 oz) bag reduced-fat shredded cheddar cheese
1 (17.6 oz) container Plain nonfat Greek yogurt
Frozen
1 (20 oz) bag frozen stir fry mix (carrots, snap peas, broccoli)
1 (12 oz) bag of frozen chopped spinach
1 (12 oz) bag frozen cauliflower florets
1 (12 oz) bag frozen broccoli florets
Spices
1 (3 oz) container black pepper
1 (2.25 oz) bottle cayenne pepper
1 (1.5 oz) bottle cumin
1 (2 oz) bottle chipotle pepper powder
1 (1.25 oz) bottle ground ginger
Canned & Dry Goods
1 (2 lb) bag brown rice
1 (2 lb) bag white rice
1 (8 oz) bag unsalted raw cashews
1 (15.5 oz) can no-salt-added black beans
1 (10 oz) can red enchilada sauce
1 (12 count) pack corn tortillas
1 (32 fl oz) carton unsalted chicken broth
1 (4 oz) jar red curry paste
Pantry Items
1 (16 fl. oz) bottle olive oil
1 (16 fl. oz) bottle canola oil
1 (5 oz) can cooking spray
1 (10 fl. oz) bottle reduced-sodium Worcestershire sauce
1 (8 oz) bottle Dijon mustard
Did you enjoy one of these recipes? Have any other tips for saving money at the grocery store? Let us know by leaving a comment below!