One of the toughest parts of getting dinner on the table can be trying to figure out what's for dinner! Planning meals is just one more thing on the daily to-do list. Don't even get us started on grocery shopping! ONIE is here to make it a little easier. We created a shopping list with ingredients to make five easy dinner recipes. Even better, they require very little prep time. We are talking 30 minutes or less! We even included a slow cooker recipe for that busy day you just don't have time to cook. Our BBQ Chicken Sliders are our easiest healthy homemade recipe yet. Only 10 minutes of prep time, let it cook while you're busy, and dinner is served!
You can find this simple shopping list and recipes below. We added a few tips to make meal planning and grocery shopping a little easier.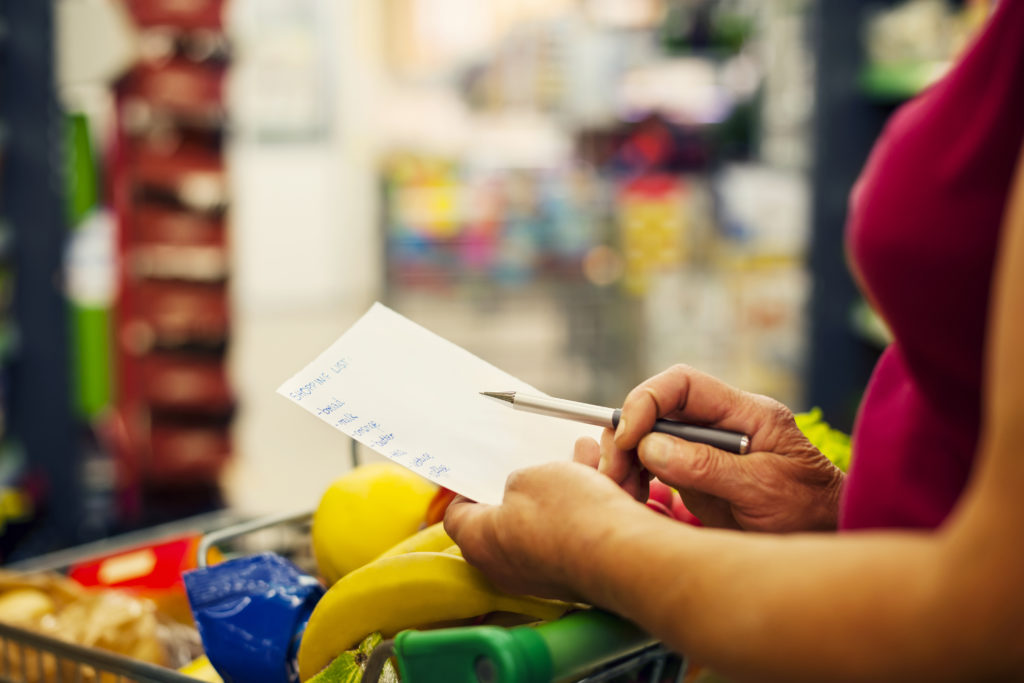 Meal Planning Tips
Meal planning can save you time and last minute trips to the store. It doesn't have to be complicated, and there is no right way to do it. Plan meals around your schedule and find what works for you. Here are a few tips to make your trip to the store simple.
Make a template shopping list.
What are the staples you buy every time you go shopping? Write them down and save the list as a template. Use this list as a starting point and add to it when making your shopping list. This can be a real time-saver and you are less likely to forget those staple items. You'll never leave your list at home again if you keep this list on your phone.
Choose recipes with similar ingredients.
Save time and money by choosing recipes that have similar ingredients. For example, our list below uses chicken in all of the recipes so that you can buy in bulk. Have leftover chicken? Freeze it!
Save your favorite recipes in a convenient place.
Whether you keep them in a cookbook or save them to your phone, make sure your favorite recipes are easy to find. Find what works best for you. The most important part is that you can find your favorite recipes when you make your shopping list.
"Taco Tuesday" isn't just fun to say, it makes meal planning easier! Having themes makes it easier to make your weekly shopping list because you know what you're having for dinner on "Slow Cooker Saturday"! If your theme night is getting (yawn) boring, mix it up with a new recipe.
Speaking of theme nights, how about a "Leftovers Wednesday"? Not quite as catchy as "Taco Tuesday," is it? But it will save time and get you through the middle of a busy week! If you know some of your meals will serve more than you need, plan for leftovers one night. If you don't want to eat the same meal twice in one week, try freezing it for later!
To get you started, we put together a shopping list with the ingredients to make these five tasty recipes!
Download the shopping list here.
Recipes
Shopping List
Meat
Boneless, skinless chicken breasts (7 lbs)
Produce
Baby spinach (32 oz)
Grape tomatoes (32 oz)
Garlic bulbs (3)
Tri-color coleslaw mix (16 oz)
Limes (3)
Cilantro (1 bunch)
Red bell pepper, large (2)
Green onion (1 bunch)
Dairy
Cheddar cheese, reduced-fat shredded (8 oz)
Parmesan cheese (6 oz)
1% low-fat milk (½ gallon)
Plain non-fat plain Greek yogurt (32 oz)
Frozen
Broccoli florets (12 oz)
Corn (12 oz)
Spices
Garlic powder
Black pepper
Italian seasoning
Chipotle pepper powder
Red pepper flakes
Canned & Dry Goods
Unsalted chicken broth carton (32 oz)
Pineapple tidbits (8 oz)
Tomato sauce, no-salt-added (15 oz)
Tomato paste, no-salt-added (6 oz)
Black beans, no-salt-added (15 oz)
Chipotle peppers in adobo sauce (7 oz)
Grains
Pasta shells (8 oz)
Whole-wheat penne pasta (16 oz)
Whole-wheat dinner rolls (12 count)
Instant brown rice (28 oz)
Pantry Items
Apple cider vinegar (32 oz)
Worcestershire sauce (10 oz)
Low-sodium soy sauce (15 oz)
Canola oil (48 oz)
Olive oil (25.5 oz)
Non-stick cooking spray
Honey (12 oz)
All-purpose flour (5 lb)