The Oklahoma Nutrition Information and Education Project, in partnership with the Oklahoma Department of Agriculture, Food and Forestry, hosts the annual Oklahoma Farmers Market and Agritourism Conference. This multi-day conference covers topics of interest for farmers market managers, producers, community support organizations, and agritourism site managers. To learn more about the annual Oklahoma Farmers Market and Agritourism Conference visit the event's Facebook page.
2020 Oklahoma Farmers Market & Agritourism Conference
February 10 – 12, 2020
Hilton Garden Inn & Edmond Conference Center
2833 Conference Dr. Edmond, OK 73034
Keynote Speaker: Michael Kilpatrick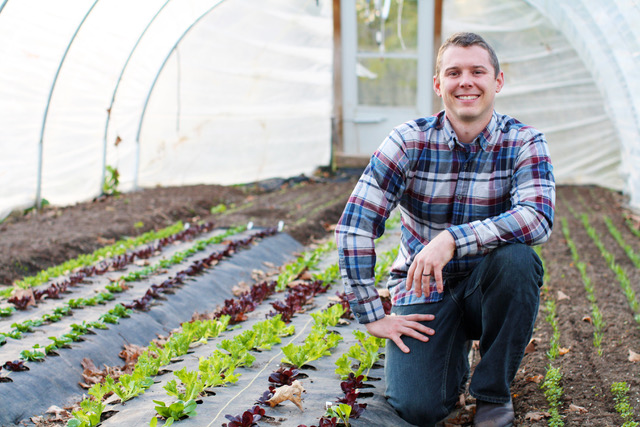 We're excited to announce the keynote speaker for the 2020 OKFMAC is Growing Farmers Co.'s Michael Kilpatrick!
Michael is a farmer and author who lives to help farmers apply business principles and practical, proven solutions to grow their businesses and simplify their lives. Over the past 15 years, Michael has managed farms and businesses, and consulted for industry experts. You can find more information at michaelkilpatrick.com.
Click here for the complete list of sessions & speakers for the Full Conference Day on February 11th.
Conference Schedule of Events with registration links:
February 10
Effective DIY Marketing (FULL) 8:00am – 12:00pm
Are you ready to take your marketing to the next level? In this workshop you will learn the basic skills to create your own digital & print marketing materials. From social media graphics, event fliers, brochures, display racks, business cards to anything in between, learn how to create effective and eye-catching marketing materials. Note: Registration for this workshop is now closed. E-mail okfarmersmarkets@ouhsc.edu to be put on a waitlist.
Grant Writing Workshop (FULL) 1:00pm – 4:00pm
This workshop will be beneficial for those who would like to learn technical writing skills for preparing a grant application. The workshop will cover writing SMART goals, project objectives, timelines, outcome measures, & budget forecasting. There will also be a walk through of a grant application, identifying what to look for in the request for proposal. Note: Registration for this workshop is now closed. E-mail okfarmersmarkets@ouhsc.edu to be put on a waitlist.
Produce Safety Training (FULL) 8:00am – 5:00pm
This course will provide a foundation of Good Agricultural Practices (GAPs) & co-management information, FSMA Produce Safety Rule requirements, & details on how to develop a farm food safety plan. Individuals who participate in this course are expected to gain a basic understanding of: microorganisms relevant to produce safety & where they may be found on the farm, how to identify microbial risks, practices that reduce risks & how to begin implementing produce safety practices on the farm, parts of a farm food safety plan & how to begin writing one & requirements in the FSMA Produce Safety Rule & how to meet them. Note: Registration for this workshop is now closed. E-mail karenl.smith@okstate.edu to be notified for the next training.
Plasticulture Workshop (FULL) 1:00pm – 5:00pm
At the workshop you will learn the pros & cons of plasticulture, a production method that combines plastic mulch with drip irrigation. It can mature crops earlier & reduce weed pressure, while conserving water & reducing nutrient leaching. Plasticulture can also reduce soil compaction, while contributing to higher yields & better quality produce. There will be a demonstrate of setting up a plasticulture system including a drip irrigation line and laying plastic mulch. Note: Registration for this workshop is now closed. E-mail okfarmersmarkets@ouhsc.edu to be put on a waitlist.
February 11
Full Conference Day 7:00am – 5:00pm
A full day of networking & learning. The day will start with a welcoming address over the state of local agriculture in Oklahoma followed by 4 session blocks with over 24 sessions covering a variety of topics geared towards growers, market vendors, market managers, community partners & agritourism producers. Breakfast & lunch will be provided. Note: Registration for the full conference day is now closed.
February 12
Agritourism Rolling Workshop ($25) 8:00am – 5:00pm
Join Oklahoma Agritourism for a bus tour of some of Oklahoma's top agritourism destinations! Stops include Lakeview Lavender Farm, The Farm on Fishmarket, Native Spirits Winery and Wells Family Christmas Tree Farm. Priority registration will be given to any currently registered Oklahoma Agritourism members. The work­shop is free to all Oklahoma Agritourism Association members or active members of the Oklahoma Agri­tourism program and $25 for non-members. For more information & to register email: Micaela.Danker@ag.ok.gov.

Innovative Farm Tour (FULL) 8:00am – 5:00pm
Meeting on Wednesday morning at the Conference Center, this bus tour will visit four unique & successful farms with a variety of growing styles as well as have one farm participate in a mock Produce Safety Audit. This tour will leave promptly at 8am, lunch/snacks/afternoon coffee will be included. Registration is limited to 50 people. The tour will include The Farm on Fish Market, The Looney Farm, Canadian Valley Farm, and Prairie Wind Nursery. Note: Registration for this workshop is now closed. E-mail okfarmersmarkets@ouhsc.edu to be put on a waitlist.
Conference Room Block
Room blocks will be available for February 9, 10, and 11. If interested, please click here to reserve your room. Please note that cut-off date to reserve a room in the block is January 31.
If you are interesting in sponsoring or being an exhibitor please email OKFarmersMarkets@ouhsc.edu.
---
This conference is made possible through the support of a USDA Specialty Crop Block Grant, USDA – NRCS, Langston University – USDA OPPE through the 2501 Limited Resource Farmers & Ranchers Association, OK Agritourism Association. ODAFF Produce Safety by the Food and Drug Administration through grant PAR-16-137 & the ONIE Project. The views expressed in written materials or publications and by speakers and moderators do not necessarily reflect the official policies of the Department of Health and Human Services; nor does any mention of trade names, commercial practices, or organization imply endorsement by the United States Government.