We all know that fruits and vegetables are good for us. These foods contain important vitamins, minerals, fiber, and other nutrients that can help protect us against different chronic diseases. Here is a list of some of the nutrients and health benefits that vegetables and fruit offer:
Most vegetables and fruit are naturally low in fat and calories.
A diet high in fruits and vegetables is associated with decreased risk of heart disease and certain cancers.
They are important sources of many nutrients such as potassium, dietary fiber, folate, and vitamins A and C.

Potassium may help maintain healthy blood pressure.
Fiber helps reduce blood cholesterol and may lower the risk of heart disease.
Folate helps the body form red blood cells.
Vitamin A helps keep eyes and skin healthy and helps to protect against infections.
Vitamin C helps heal cuts and wounds and helps with iron absorption.
We know that eating more fruits and vegetables can be hard, that's why we found a few simple ways to help you add more fruits and vegetables to your meals! From snack time to side dishes, meals and desserts, we've got you covered!
Breakfast
Fuel your morning with these simple and delicious meals. Try adding some fruit to non-fat Greek yogurt and granola. These strawberry banana parfaits are super easy and pack a lot of nutrients in a cup! Even better, use whatever fruit your family likes the most!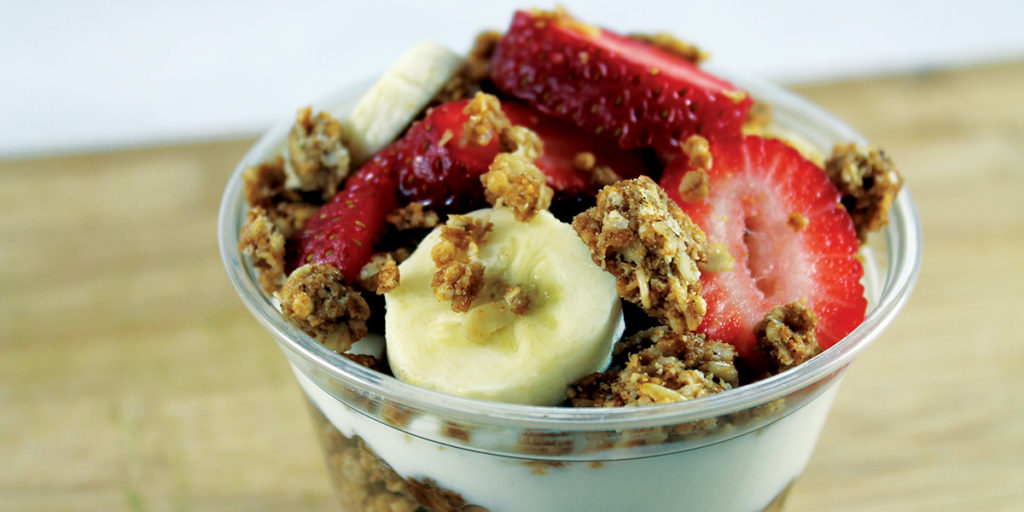 Frittatas are an easy way to include vegetables for breakfast. Try them on the weekend when you have a little more time. Your family will love a ham and veggie frittata or for a vegetarian version, try a delicious garden veggie frittata!
Snacks
Snacks can be a fun and quick way to add more fruit and vegetables to your diet. If you want a crunchy snack, try raw veggies and fruit. Serve a healthy homemade ranch dip with whatever fresh vegetables you have on hand. Make the seasoning one time and then every time you want to make fresh homemade ranch, just mix 2 Tbsp of seasoning with yogurt and sour cream and you're ready for a tasty snack?
Pizza Pizzazz! What's another way to get kids to eat their vegetables? Put them on pizza! Mini pizzas make a fun after school snack and are an excellent opportunity to get kids to try a new vegetable! Top each mini pizza with cheese and they are sure to be a hit among kids and grown-ups alike!
Lunch and Dinner
Add veggies you like or almost like to dishes you love. Soups, casseroles and pastas are a quick way to add your favorite veggies and introduce new ones to your dinner routine.
Add stir-fry vegetable mix or whatever veggies you have on hand to ramen noodles for easy gourmet ramen! Remember to discard the seasoning and use your favorite herbs and spices for more flavor without the added salt!
Add zucchini and mushrooms to lasagna! Check out ONIE's recipe for easy skillet lasagna. Then simply serve this dish with a side of fruit for a complete MyPlate meal.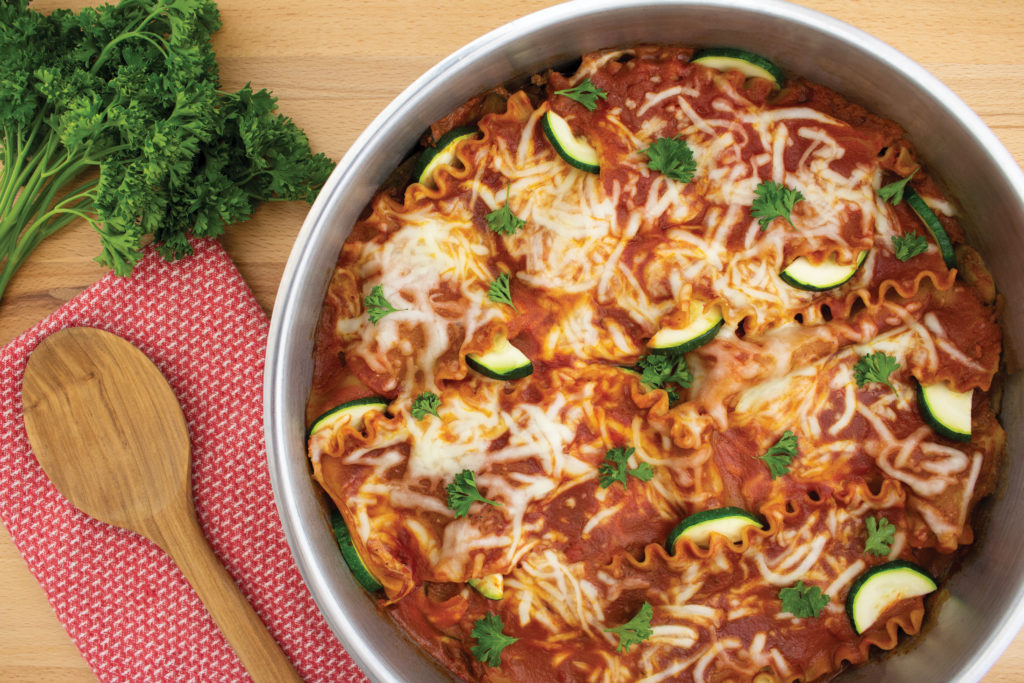 Or how about adding both, veggies and fruit, to your dish? Pineapple pork chops and orange cashew chicken make eating more fruits and veggies easy and delicious!
Sweet Treats
Fruit is a natural and healthier way to sweeten desserts. These banana chocolate chip cookies and homemade froyo are two of our favorite sweet treats. Choose your favorite fruit combinations to make froyo that your family will love.
Eating more fruits and vegetables doesn't have to be difficult or expensive. We hope these recipes give you some ideas on easy ways to add more fruits and vegetables to your meals and snacks. Don't forget to visit our website for hundreds more easy, healthy and delicious recipes!