Many say that breakfast is the most important meal of the day, so why not have it twice? Eating breakfast food for dinner is always delicious and can be easier than whipping up more traditional evening meals. ONIE has created 5 quick breakfast-for-dinner recipes that are nutritionally balanced and just as good to serve in the p.m. as they are in the a.m. So, is eating breakfast for dinner all that it's cracked up to be? We think so – and here are three reasons why!
1. Eggs are an egg-cellent source of nutrition
Eggs contain only one ingredient – Eggs! Did you know that one egg has 13 essential vitamins and minerals and 6g of high-quality protein, all for around 70 calories? Eggs can be used to make frittatas, omelets, burritos, tacos, skillets, casseroles, muffins, and more. Eggs are nutritious and versatile, which is why breakfast for dinner is an egg-cellent idea!
2. Breakfast ingredients typically cost less
Breakfast at dinnertime doesn't just make the family happy, it makes the pocket-book happy. Typical breakfast foods such as eggs, bread, beans, and potatoes are typically low-cost items.
And at around $0.17 a serving, eggs are the least expensive source of high-quality protein out there. Add a few in-season veggies from the farmers market, or even use up the leftover veggies from the week, and you have yourself an inexpensive yet filling dinner that will please the whole family.
3. It's FUN
One way to get kiddos excited about dinner time is to give them something to look forward to. A fun way to do this is to have a "Breakfast for Dinner" night each week. Kids may feel like they're getting a treat when they have breakfast for dinner. Many breakfast-for-dinner recipes are quick and easy to put together. Get the whole family involved by cracking and whisking eggs, toasting bread, picking out their favorite veggies to add to a dish, or mixing up a fresh fruit salad. Any way you slice it, breakfast for dinner can be a blast!
Breakfast for Dinner Recipes
Wake up your usual weeknight dinner routine with these hearty-enough-for-dinner recipes. Each one has at least one serving of vegetables. Get cracking and serve up some fresh fruit and a basket of sliced whole wheat bread for a complete meal.
Wanna spice up the evening? These upside-down "nachos" feature eggs as the star ingredient. Add your favorite Tex-Mex toppings such as shredded chicken, avocado, or low-fat sour cream to satisfy the entire family. Bonus: There is a recipe for homemade chunky salsa too!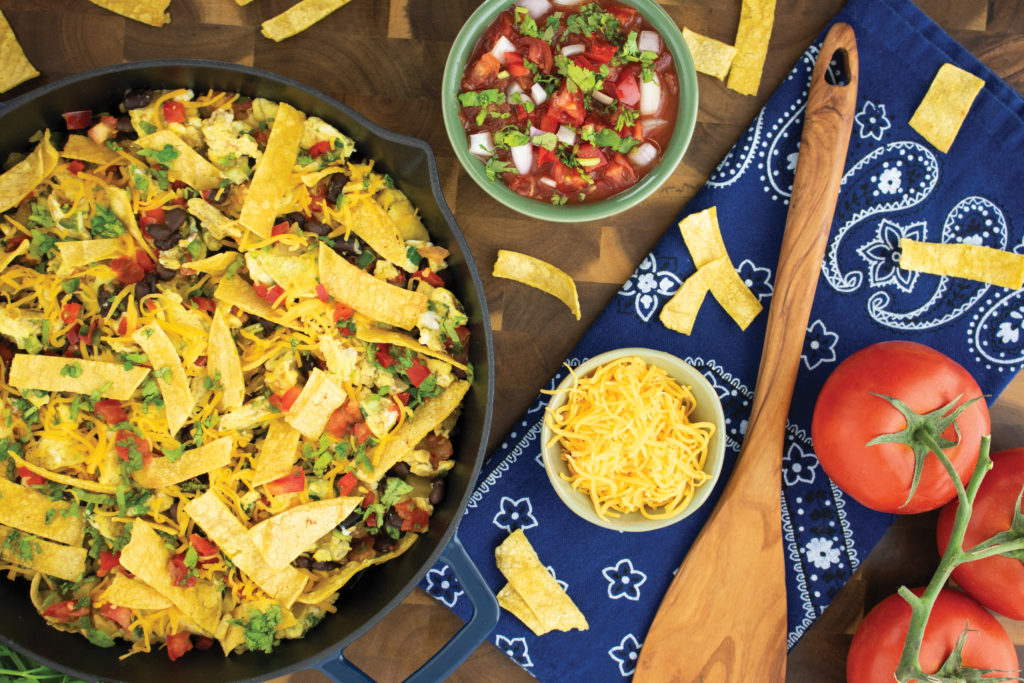 Frittatas are simply baked Italian omelets. Often enjoyed for lunch, this frittata is a warming and filling dinner with tons of garden veggies. Feel free to add your favorites to the mix!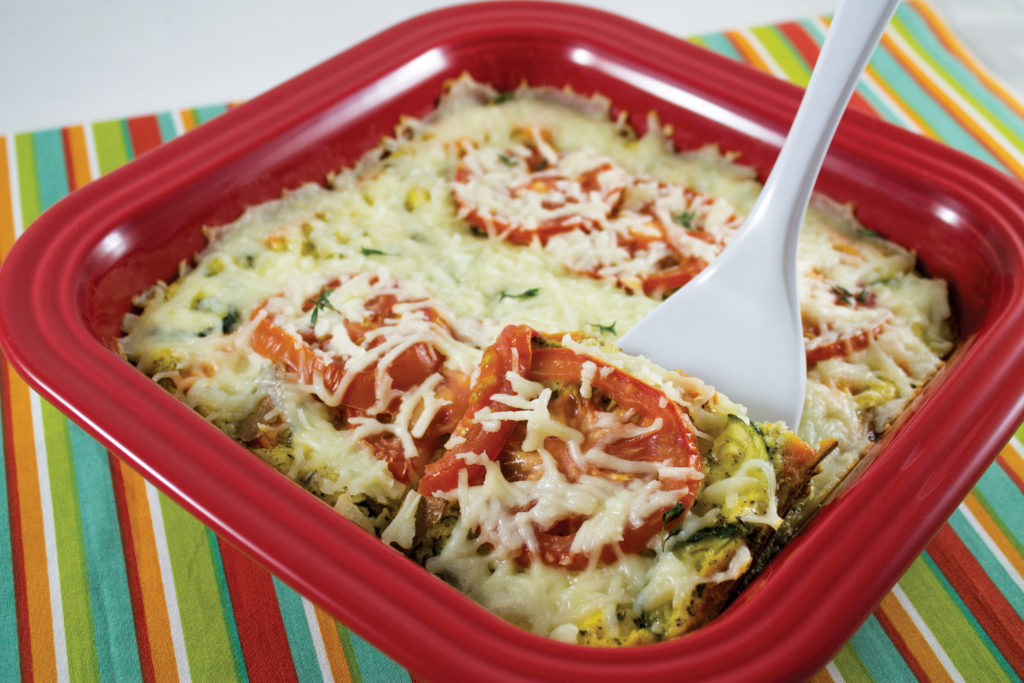 This 5-minute meal is fun to customize and each family member can pick out their favorite mug to have dinner from. You could even toast bread, bagels, or English muffins to make an easy breakfast sandwich with your mug mix!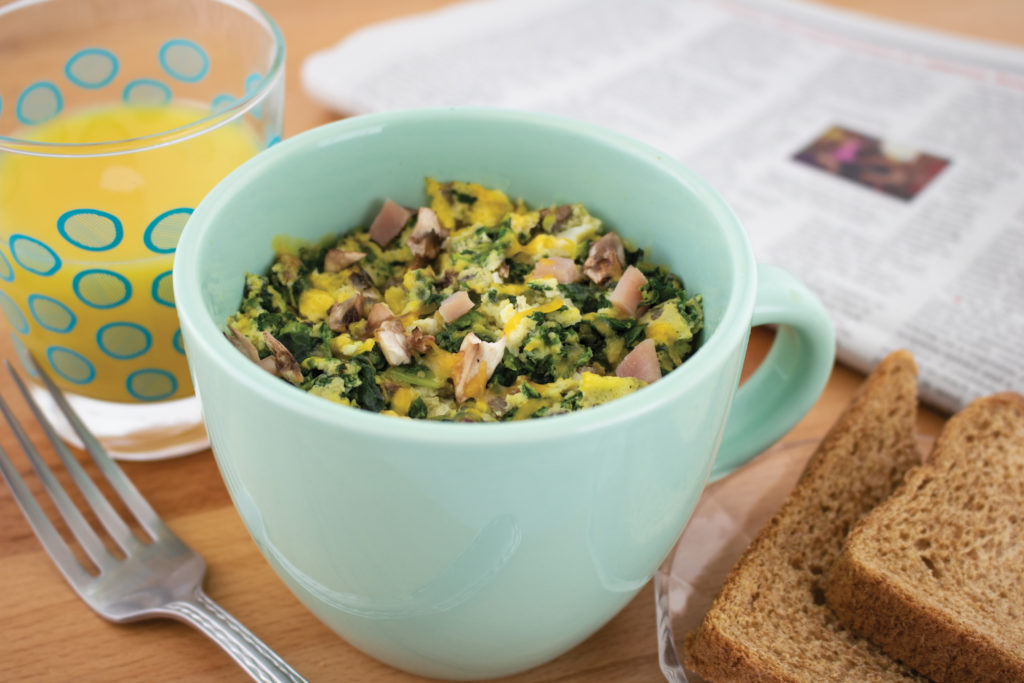 This hearty bake will fill even the hungriest of dinner time tummies. Leftovers (if there are any) are perfect for a quick breakfast the next morning. This recipe can be prepared in two easy ways:
Prepare as a casserole and portion the leftovers into microwave-safe containers.
Another fun way to prepare this dish is to make egg muffins! Prepare the recipe as normal but pour the mixture into greased muffin tins, filling ⅔ of the way, and bake for 20 minutes. Store leftover muffins in microwave-safe containers.
Either way, pop leftovers in the microwave for a few minutes and you have a hot nutritious breakfast ready to go the next day. To create a complete MyPlate meal, serve this bake with a cup of fruit and toasted whole wheat bread.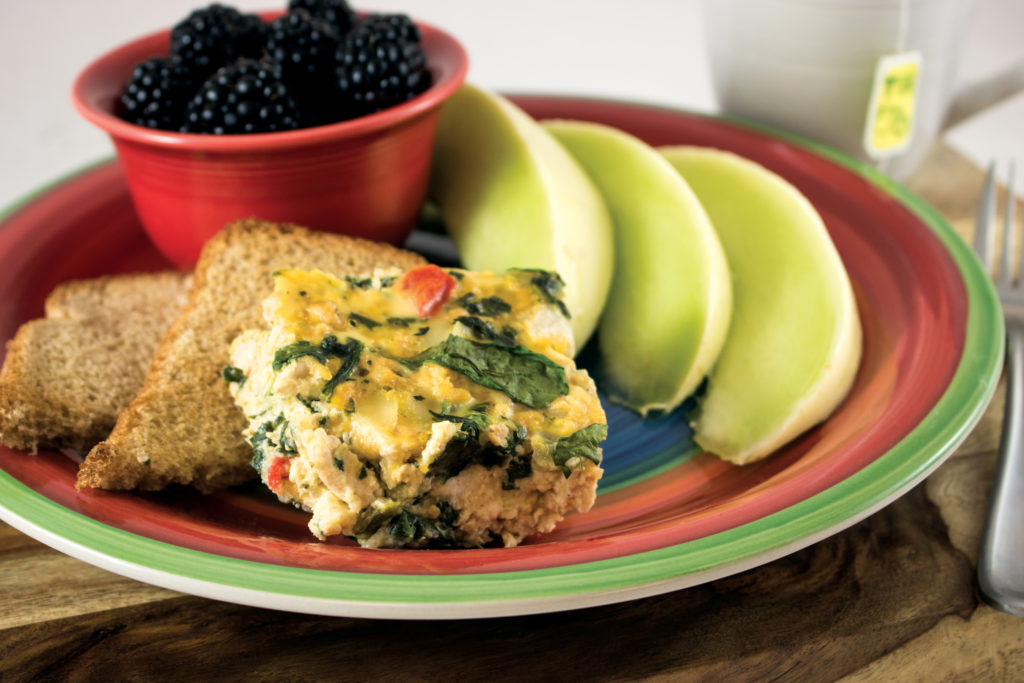 This hash recipe is hearty enough to make the swim upstream from a.m. to p.m. Better still, the stove-top breakfast-for-dinner idea comes together quick and easy. Fish is a great source of good fats that keep our hearts healthy! Easily substitute salmon for canned light tuna or chicken breast.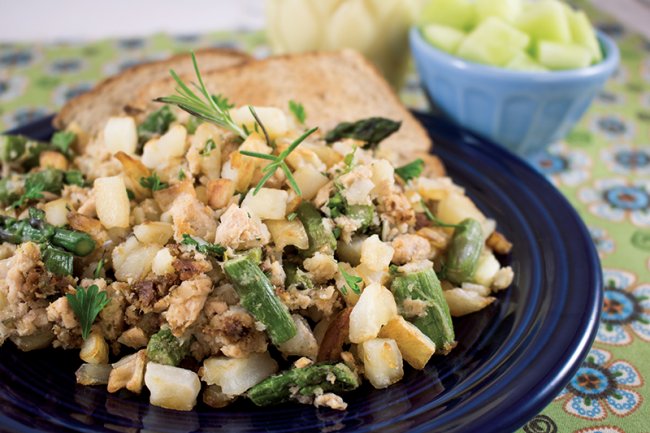 We hope that breakfast-for-dinner night becomes your jam! Share your recipe successes or your favorite go-to breakfast-for-dinner recipe by leaving a comment below.