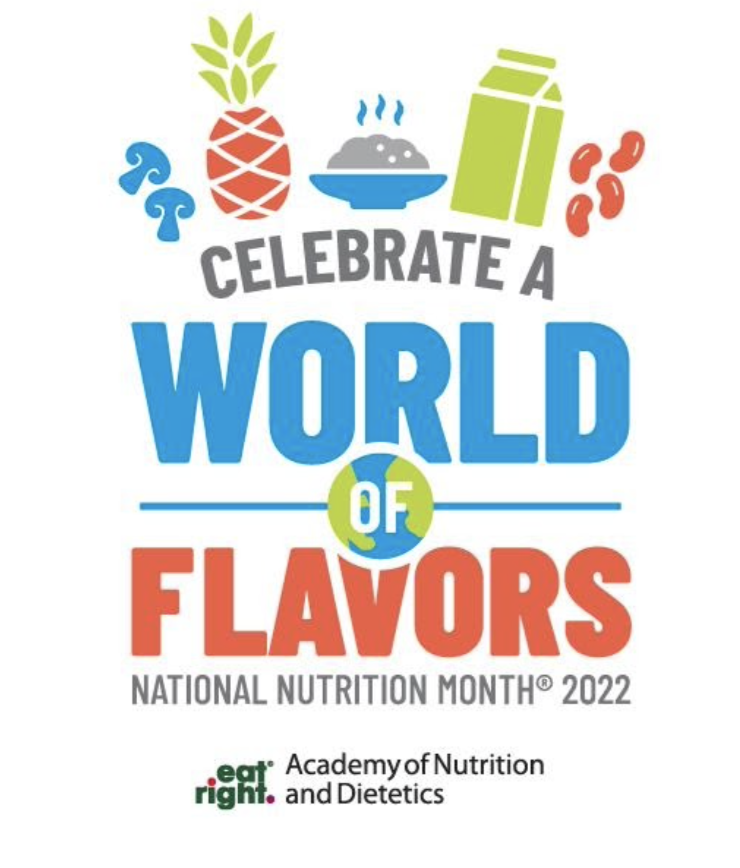 National Nutrition Month®, created by the Academy of Nutrition and Dietetics in 1973,  takes place every March! This year's theme is "Celebrate a World of Flavors." This is a wonderful time to celebrate the cultural variety of foods available around the world, while also embracing your own culture. During the month of March, each week has a different key message about how to develop healthy eating habits. Each week provides tips on how to incorporate these key messages into your daily life & celebrate a world of flavors. 
Week 1: Eat a Variety of Nutritious Foods
Eating a variety of foods allows you to receive a wide range of nutrients your body needs to stay healthy. There are numerous ways to increase variety in your diet. Listed below are ways you can accomplish eating a variety of nutritious foods.
Try something new each week during the month of March.

Try a new recipe that you have never made before.  

Visit a local farmers market to discover local foods and flavors. 

Add color to your plate.

Red: Tomatoes, apples, bell pepper, beets, strawberries, chili peppers, radish, pomegranate, cranberries, cherries 

Orange: Bell pepper, sweet potato, carrot, oranges, pumpkin, cantaloupe 

Yellow: Banana, corn, pineapple, squash 

Green: brussels sprouts, spinach, broccoli, kale, green beans, bell pepper, kiwi, asparagus, peas, lime

Blue: Blueberries, blackberries, plums

Purple: Eggplant, cabbage, grapes
Week 2: See a Registered Dietitian Nutritionist
Eating well does not have to be challenging. Registered Dietitians are great resources to help you along your nutrition journey. Registered Dietitians can work in various environments including hospitals, schools, outpatient clinics, public health centers, fitness centers & more.
How do you find a dietitian?

Ask your doctor or healthcare provider for a referral.
Visit eatright.org to find your local nutrition experts. Use the helpful Find a Nutrition Expert tool.
Check their qualifications. Those who have R.D. or R.D.N. next to their name are people who you can rely on for credible nutrition information.

Ask a RDN how they can help you reach your goals and incorporate new, healthy foods into your daily routine.
Week 3: Plan your meals and snacks
Life can be hectic but planning your meals ahead of time can relieve stress. You can use a calendar, notepad, or organizer to help you with this process.
Reflect about your own favorite foods & traditions. 
Keep a running grocery list that is easily accessible.  
Plan a meal that represents your culture & invite family & friends over to enjoy it with you. 
Think about how you can make & store leftovers. 
Week 4: Create tasty foods at home
Making food at home is a great way to stay healthy & creative. When cooking at home, aim for as many food groups as possible. Every culture has foods that fit within the MyPlate. Travel the world in your own kitchen by trying new flavors.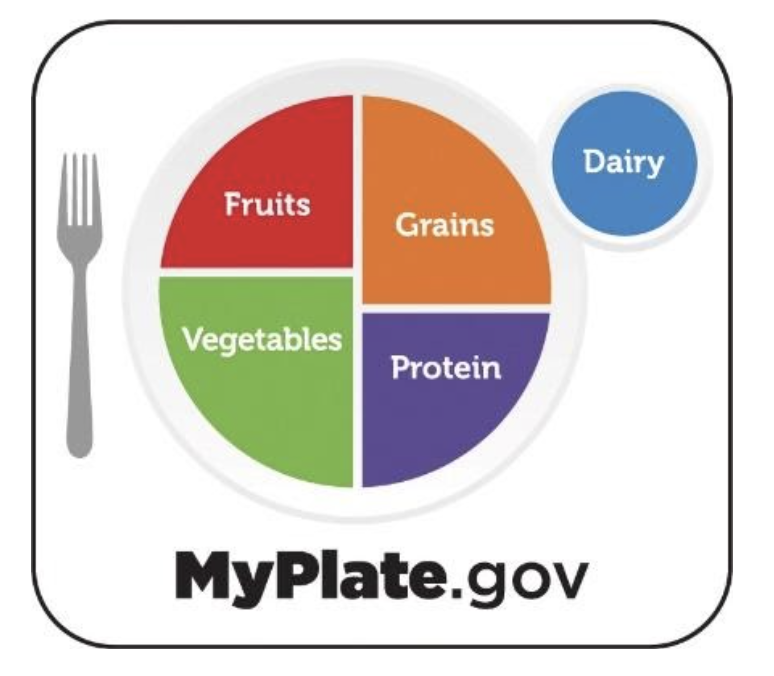 Italian Chicken Bruschetta Bruschetta originated in Italy.  Bruschetta is an appetizer dish that is made with simple ingredients including tomatoes, fresh basil, oregano, garlic, olive oil, & balsamic vinegar. Olive oil is rich in healthy monounsaturated & polyunsaturated fats.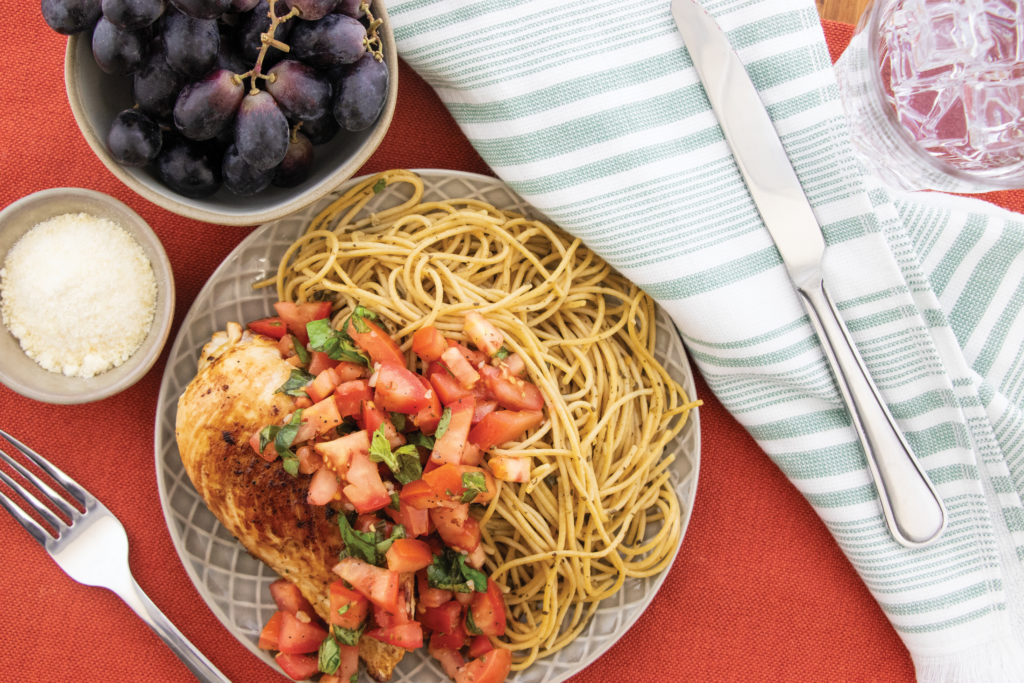 Summer Greek Salad This Greek salad contains refreshing summer veggies including cucumber, green bell pepper, grape tomatoes, & olives. In Greece, local olives are part of many dishes. For more than 6000 years, the olive has developed alongside Mediterranean civilizations & is now commercially produced on more than 23 million acres in the Mediterranean basin.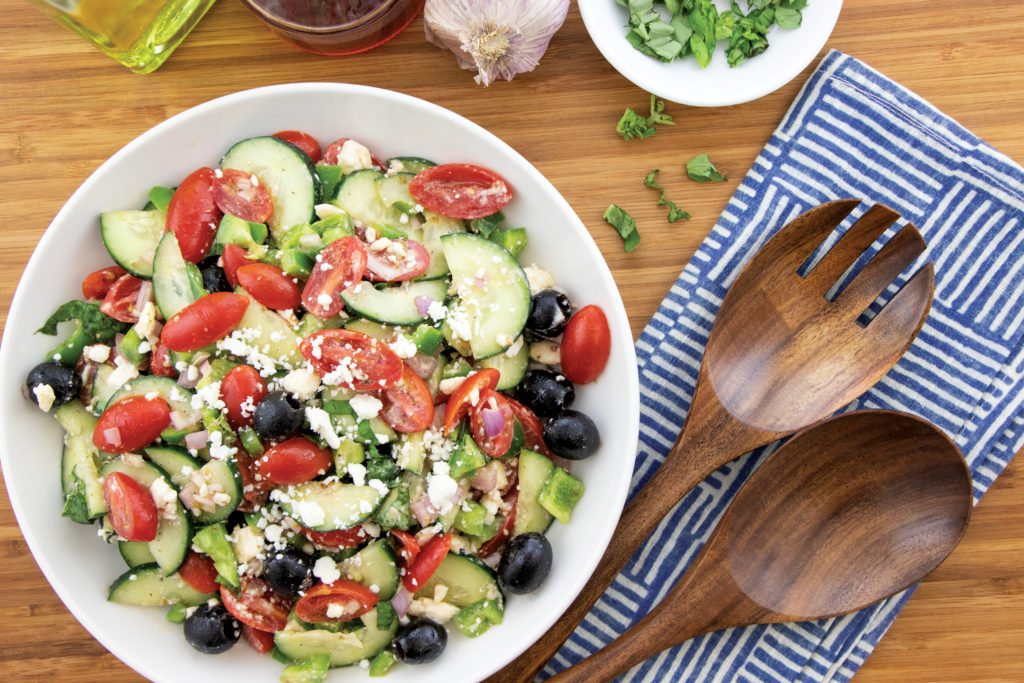 Easy Pork Paella Paella is a rice dish that can include meat, seafood & veggies. According to Merriam-Webster, Paella comes from the Latin word meaning "pan."You guessed it; paella was traditionally made in a shallow pan over an open flame in the Valencia region of Spain.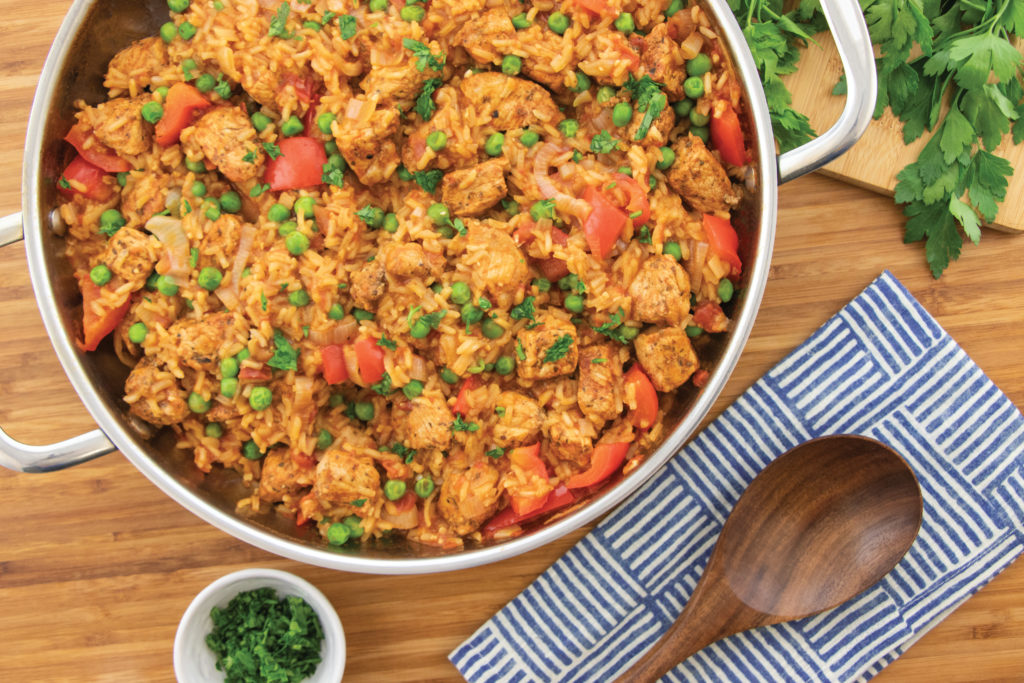 As you can see, there are so many ways to embrace culture through food. For more recipes, cooking demonstrations, & information, follow the ONIE Project on Facebook & subscribe to our YouTube channel!
Sources:
Vossen P. Olive oil: History, production, and characteristics of the world's classic oils. HortScience. 2007;42(5):1093-1100. doi:10.21273/hortsci.42.5.1093
Merriam-Webster. (n.d.). Paella. In Merriam-Webster.com dictionary. Retrieved January 24, 2022, from https://www.merriam-webster.com/dictionary/paella