Myth or fact? Fresh vegetables are healthier than frozen vegetables. Myth! Fresh vegetables are colorful, fresh, and full of nutrients such as iron, potassium, vitamins C, K, and fiber. However, it is a myth that fresh vegetables are better than frozen ones. Frozen vegetables are as nutritious as fresh vegetables and sometimes even more! Frozen vegetables are picked when they are ripe and frozen soon after. This way, they maintain their peak nutritional value for longer. Frozen and fresh vegetables are both rich in important vitamins and minerals so either is a win!
Benefits of frozen greens
Frozen greens help lower the risk of diabetes, high blood pressure, and heart disease. In addition, frozen greens like spinach, kale, and broccoli are great sources of vitamins, minerals, and fiber.
Vitamin K – important for wound healing
Calcium – keeps your bones strong
Vitamin A – important for skin and eye health
Potassium – essential for regulating fluid balance in our body
Iron – helps carry oxygen in muscles
Fiber – it helps with digestion and cholesterol
Frozen veggies are not just rich in vitamins, minerals, and fiber, they are available year-round, more affordable, and easier to prepare than fresh vegetables. The table below compares the cost of frozen and fresh veggies.
| | | |
| --- | --- | --- |
| Vegetable | Fresh (cost/oz) | Frozen (cost/oz) |
| Broccoli | $0.22 | $0.08 |
| Spinach | $0.26 | $0.08 |
| Kale | $0.18 | $0.08 |
Simple recipes featuring frozen greens
We've picked four recipes that are affordable, simple, and fun to make with your kids. Preparing these recipes with your kids creates a good opportunity to bond and keeps them interested in what they are preparing. Kids are more likely to try the foods they help prepare.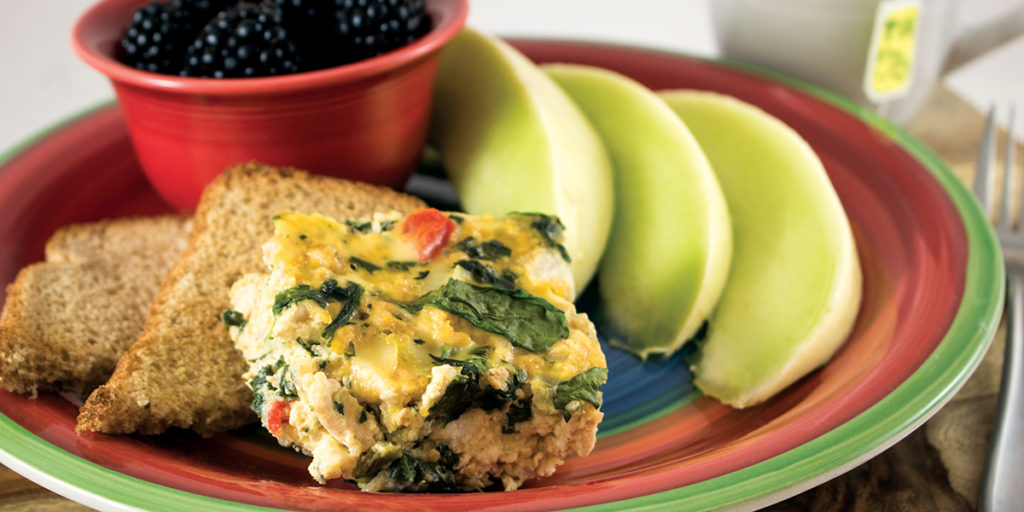 This recipe calls for fresh spinach; however, you can easily replace it with frozen spinach or any other frozen green veggie you like. This recipe is a quick and healthy breakfast that can be prepared ahead of time and reheated as needed. It provides 25 grams of protein per serving to start your day off strong.
Creamy Chicken & Spinach Enchiladas
These delicious creamy and cheesy chicken enchiladas are a great option for dinner. They are easy to prepare and save you time and money. In addition, these enchiladas are another kid-friendly recipe that can be prepared with the help of your kids. Try with your favorite frozen or leftover green veggies!
Tasty Tuscan Steak Pasta is a great choice for lunch or dinner. Easily substitute fresh kale with frozen kale or another veggie of your choice. This recipe is rich in protein and fiber to satisfy a hungry family.
Chicken Broccoli Shells and Cheese 
Chicken Broccoli Shells and Cheese is a family favorite that is delicious, healthy, and ready in 30 minutes! Add a side of fruit to complete the MyPlate meal!
It's the little wins that count.
No matter which vegetables you choose to cook with today, every GREEN is a WIN. Greens provide our body with vitamins and minerals and play an important role in lowering the risk of chronic diseases. All greens make life great, but frozen greens make life easier. Let us celebrate your little wins by leaving a comment below!