It's hard to get around Easter without thinking about eggs! While dyeing eggs is a popular Easter activity, we're talking about some delicious egg dishes to enjoy with the family. Hard-boiled, pan-fried, or baked, there are so many ways to enjoy eggs!
Eggs are a versatile, nutritious, low-cost protein source. One large egg provides about 6 grams of protein. They are a great source of choline, vitamin A, vitamin B12, vitamin D, phosphorus, and riboflavin. These vitamins and minerals help boost our eye health, bone health, and assist in nerve function.
The nutrition that we get from eggs depends on the nutrition of the chickens. Some eggs can be a good source of omega-3 fatty acids due to the feed the chickens are given. Look for eggs that have "Omega-3" on the carton.
Below are some easy ways to include eggs into your Easter holiday. Feel free to include the family in the preparation of any of these recipes for some quality family time!
Serve up some fresh sandwiches.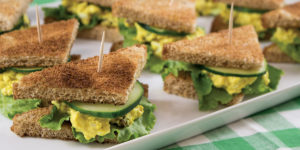 These Curried Egg Salad & Cucumber Sandwiches could be a perfect addition to your Easter brunch or lunch. Cutting them up into fours makes for easy finger food for kids! By pairing together the protein from the eggs and greek yogurt with the fiber from whole wheat bread, this dish is sure to keep you satisfied for longer.
Short on time? Try this quick and easy egg in a mug.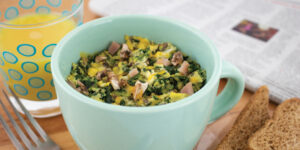 The 5 Minute Microwave Breakfast Mug is a great option for when you need breakfast fast.
Feel free to jazz it up and add your favorite toppings such as salsa or ketchup. Since these are single serve, each family member can customize their eggs however they want.
Looking for a delicious Easter breakfast?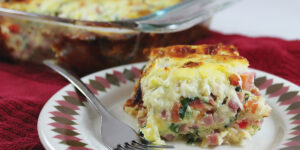 Frittatas make a wonderful main dish for an Easter breakfast. This Ham and Veggie Frittata makes for a filling and healthy meal before heading out on a family egg hunt! The mix of vegetables also makes it colorful and nutrient-packed.
Power up with a veggie-packed breakfast.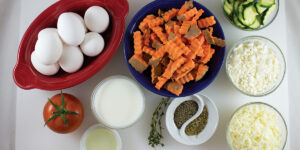 If you need a meatless option, check out our Garden Veggie Frittata. Make it your own by adding other vegetables for a variety of colors and flavor with plenty of fiber and nutrients.
Try this finger food breakfast option for family fun.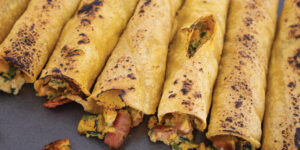 Breakfast Taquitos can be an enjoyable way to serve up breakfast, especially for kids practicing with finger foods. Serve with homemade salsa on the side for dipping. Make them in batches and freeze for an easy reheat-and-serve meal!
What is your favorite way to eat eggs? Let us know in the comments below!