Who doesn't love walking into a home filled with the smell of a home-cooked meal? That's what you get when you let your slow cooker do the work for you. Slow cookers have become a kitchen staple for many households. And it's no wonder when there are so many benefits to using one. No more heating up the kitchen with a hot oven! Plus, they make for less work and easy cleanup. We know that weeknights can be hectic which is why we compiled 5 tasty slow cooker recipes to save you time. Just whip up the ingredients, set the dial, and go.
Time Saver
Slow cookers help make dinner time a breeze, but we know that morning time is busy too. So we made sure that each of these recipes could be prepped in less than 20 minutes to get you going on time. To save even more time, chop up any veggies or proteins the night before and measure out ingredients. Then, all you need to do is assemble the ingredients, turn on the slow cooker, and within a few hours dinner is ready. Also, each of these recipes have two time options for low and high cooking to allow for flexibility depending on your schedule.
Good For Any Season
While slow cookers are great for stews and soups during the winter months, that's not the only thing you can use them for. Slow cookers are perfect for summertime BBQs (check out our BBQ Chicken Sliders recipe below). They are a great way to get a hot meal cooked without steaming up the kitchen on hot summer nights.
Convert Your Favorite Recipes
We also figured out a way to cook almost anything in your slow cooker. Converting your favorite recipe into a slow cooker will take some practice but we've got some tips to help you out. Every hour of stovetop simmering or baking at 350º is equal to 8-10 hours on low or 4-6 hours on high. Also, you may need to adjust liquids because steam is produced during slow cooking. Reduce liquids by a cup or two. If the base recipe doesn't call for any liquids add ½ cup of water or broth to create the steam. Now you can practice converting your favorite braised meats, sauces, and casserole dishes into an easy slow cooker recipe!
Slow Cooker Recipes
Ingredients in slow cookers cook together for hours allowing the flavors to fully meld together creating tender, juicy, and flavorful dishes. All 5 of these recipes will have your whole house smelling amazing, getting everyone excited for dinner time.
These chicken tacos are a great idea when feeding a crowd or meal prepping since it makes 24 tacos. Use your favorite salsa recipe to spice it up. If you don't have a salsa recipe, don't worry we've got you covered. This recipe includes a homemade taco seasoning and salsa recipe to use on any taco night.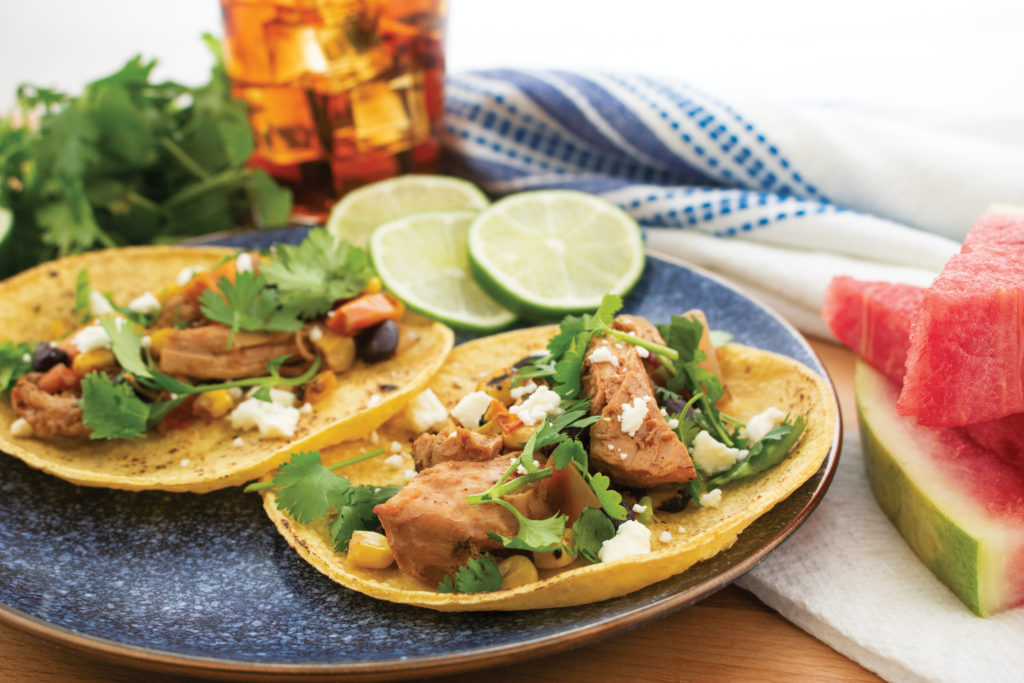 Who knew BBQ could be so easy? We love making sliders with this BBQ chicken recipe but this recipe is so versatile. Add this chicken to a salad, serve over rice and veggies, or add it to a baked potato. You could even serve it up with your favorite BBQ sides such as corn-on-the-cob, pasta and veggie salad (try ours!), baked beans, fruit salad, or potato salad. The sky's the limit.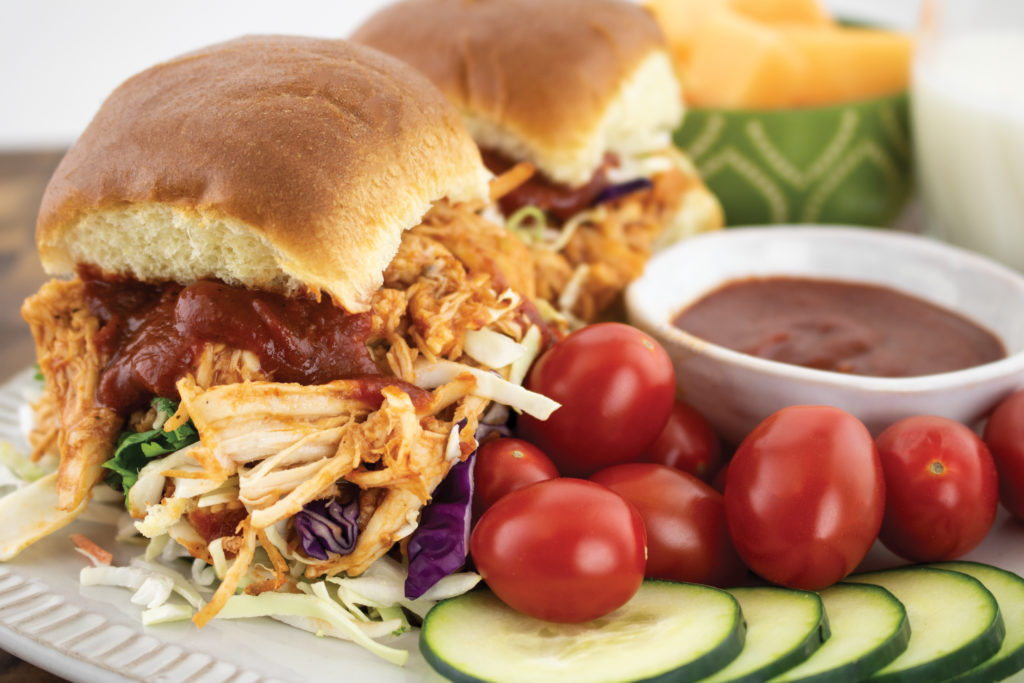 This Enchilada Stack recipe helps make Tex-Mex night easy and delicious. Have left over ground beef? Save time by adding it to this recipe and skip the skillet step! Add your favorite veggies for added nutrients. Peppers, onions, or zucchini would be great additions to this recipe.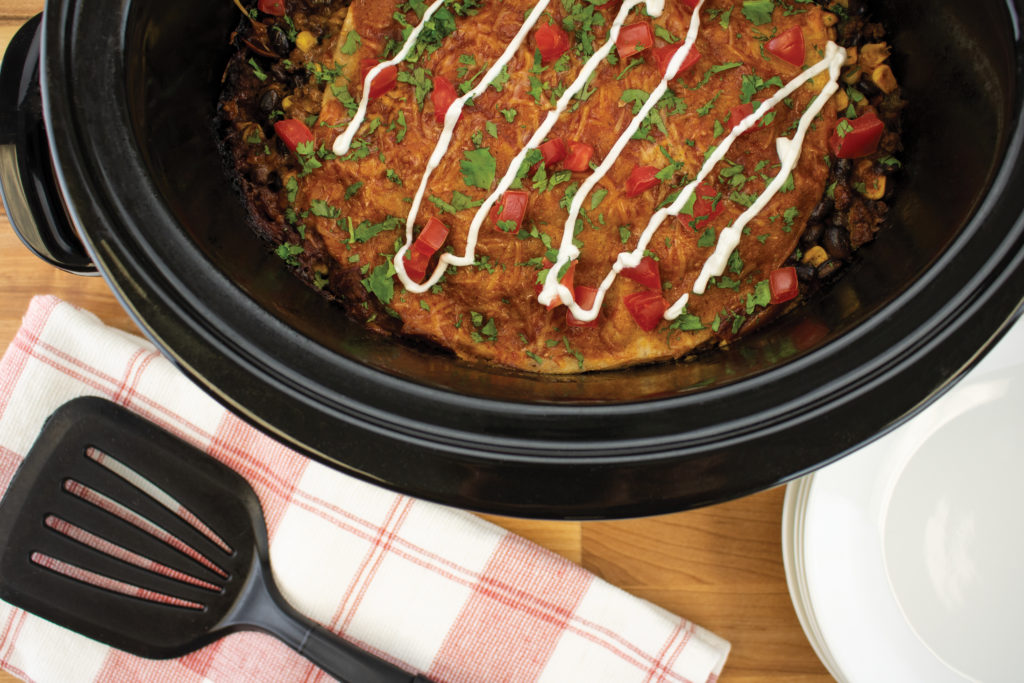 This is a great recipe to get the kids involved in. Let those little hands crush the crackers, mix up the ingredients, and help form the meatloaf. Short on time in the mornings? Prep the meatloaf the night before. Store in an airtight container overnight in the fridge and then the next morning all you have to do is line the slow cooker, place the meatloaf in, turn it on and go. Serve with your family-favorite sides, just don't forget to fill half of your plate with fruits and veggies!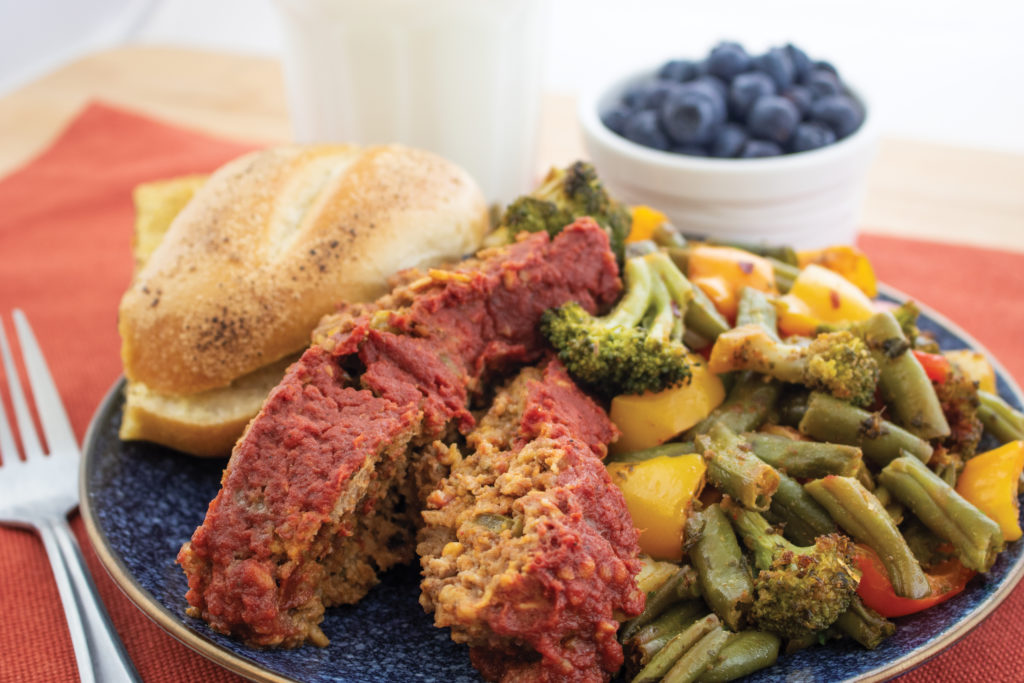 Minestrone is a hearty Italian vegetable soup made with tomato-y broth and pasta. This vegetarian dish is overflowing with vegetables. This is a great recipe to clean out the crisper drawer with. Keep leftover veggies frozen in a freezer bag and once you've saved enough, make this recipe for an easy and low-cost meal. Serve with a hardy whole-wheat bread and finish off the meal with a cup of fruit topped with yogurt for dessert to make a complete meal.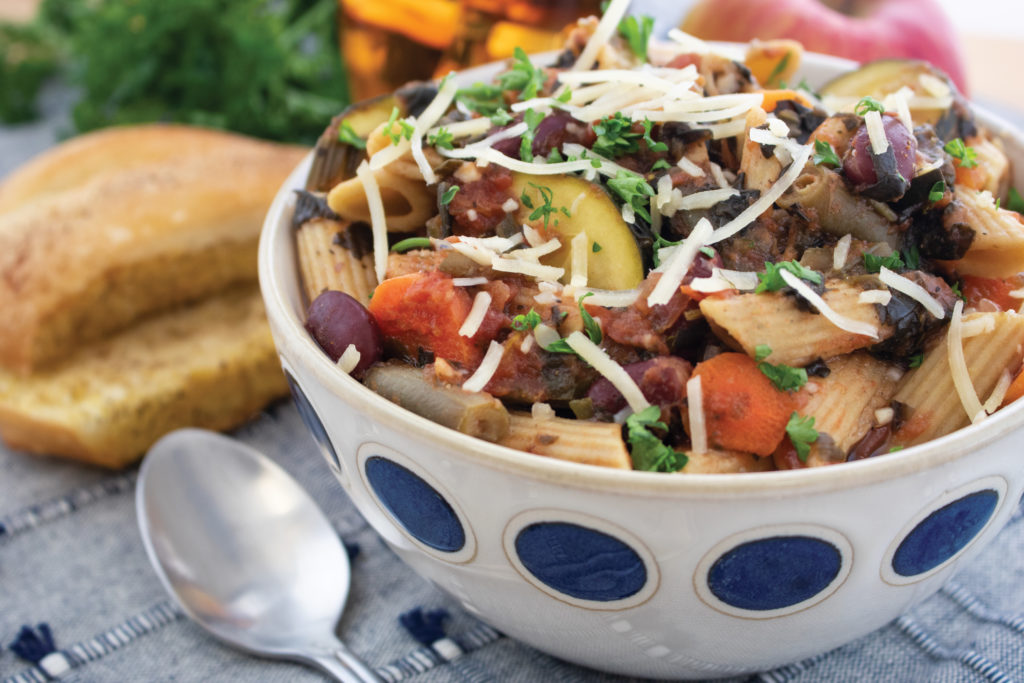 Slow Cookers are a great way to serve up a home-cooked meal without all the work. Toss in your favorite ingredients, set the dial, and go! Did you convert a recipe into a slow cooker success? We want to hear about it! Leave your success stories below.