Pasta dishes are naturally budget-friendly and simple. Not only are they quick and convenient, but they are easy family favorites that are filled with flavor and beneficial nutrients. To help you make dinner in a dash, we compiled a list of 5 easy pasta recipes and time-saving tips. Weeknights are hectic, let us help you make meals and memories your family will love.
Start a Weekly Pasta Night
Meal planning is a great way to save money, reduce waste, and add more healthy foods to your week. Stuck in rut making the same old dinners? One way to shake things up is to have a theme night, like Taco Tuesday or Meatless Mondays. Try making one night a week Pasta Night! It's perfect for a busy night because all these tasty pasta recipes can be made in 30 minutes or less. Theme nights help with meal planning and the family knows what to expect for dinner. With these 5 recipes, you could have a different pasta dish each week for a whole month. Then change up the veggies, proteins, and types of pasta for a fresh take on flavors next month.
Pro Tip: Change it up by using spaghetti squash in place of pasta for added vitamins and minerals
Make a 30 Minute Meal in Even Less Time
While meal planning can help you save money, meal prepping is the ultimate way to save time. By taking extra time on the weekends to prep, you can save valuable time on busy weeknights. Wash and chop up veggies when you get home from the store or farmers market. This way you can grab a handful of veggies to add to eggs in the morning, add to a salad at lunch, or toss in with some pasta for dinner. Most chopped veggies will last 2-3 days in the refrigerator.
Pro Tip: Some veggies should not be chopped ahead of time: Avocado, Tomatoes, Cucumber, Mushrooms, and Potatoes will become browned or mushy over time once chopped.
Another time-saving tip is to cook your pasta in the microwave.
Place pasta in a microwave-safe bowl and fill with enough water to cover the pasta with a little extra on top.
Look at the cook time on the box of pasta and add 3-4 minutes.
Stir half-way through cooking.
Drain pasta from the water, saving some of the water (see below). Caution: Pasta dish will be hot! Don't forget to use your oven-mitts.
Add to the skillet and mix with ingredients!
Pro Tip: Save a small amount of pasta water (about 1 cup) and add to your pasta sauce. The starch left over from the pasta will thicken and add a silky richness to your sauce. Once you add the final ingredients to your skillet, add the pasta water at the end and stir. Cook for an additional 1-2 minutes while mixing until the sauce is thick and smooth.  
5 Easy Pasta Recipes
We compiled 5 pasta recipes to help make Pasta Night a success for everyone, including the cook! These quick cleanup recipes will have you enjoying family time in no time.
This creamy Italian pasta dish will be a hit with everyone. Using plain non-fat Greek yogurt gives this dish that classic creamy feel without the heavy cream of a traditional alfredo sauce. Pair with a side salad or small bowl of fruit and you have a complete nutritious meal.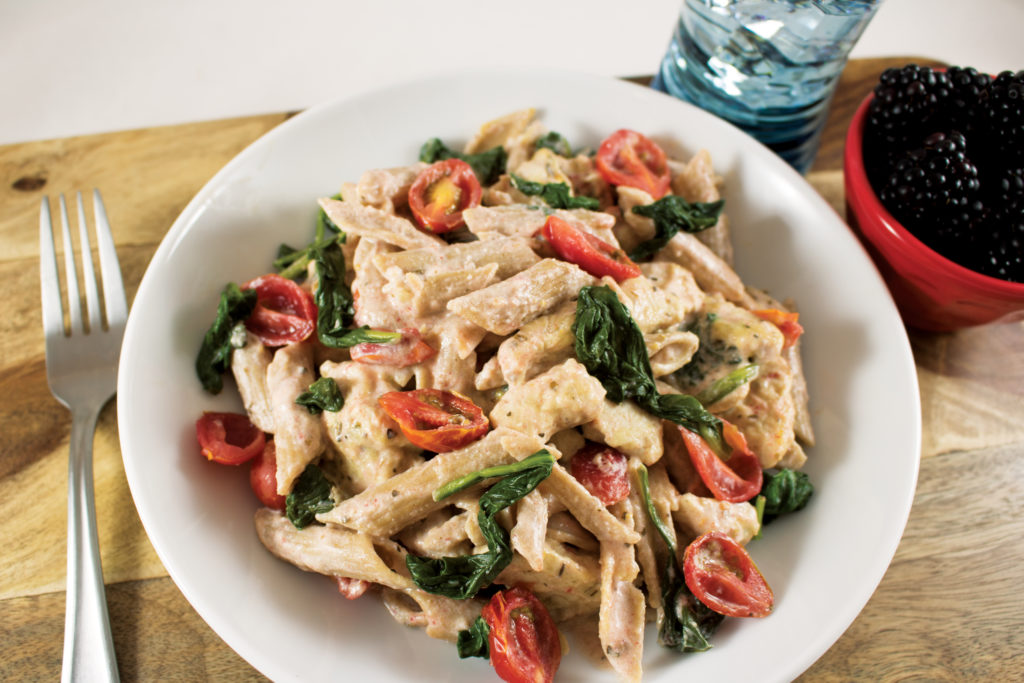 Spicy Shrimp Linguine with Asparagus
Looking to spice up Pasta Night? The ingredients in this dish are a perfect match. Leeks (cousins to onion, garlic, and chives) and garlic are brightened up by spicy jalapenos and tart lemon juice. For kiddos with sensitive taste buds, leave out the jalapeno and crushed red pepper. Sprinkle crushed red pepper on the dish after portioning for those who want a kick.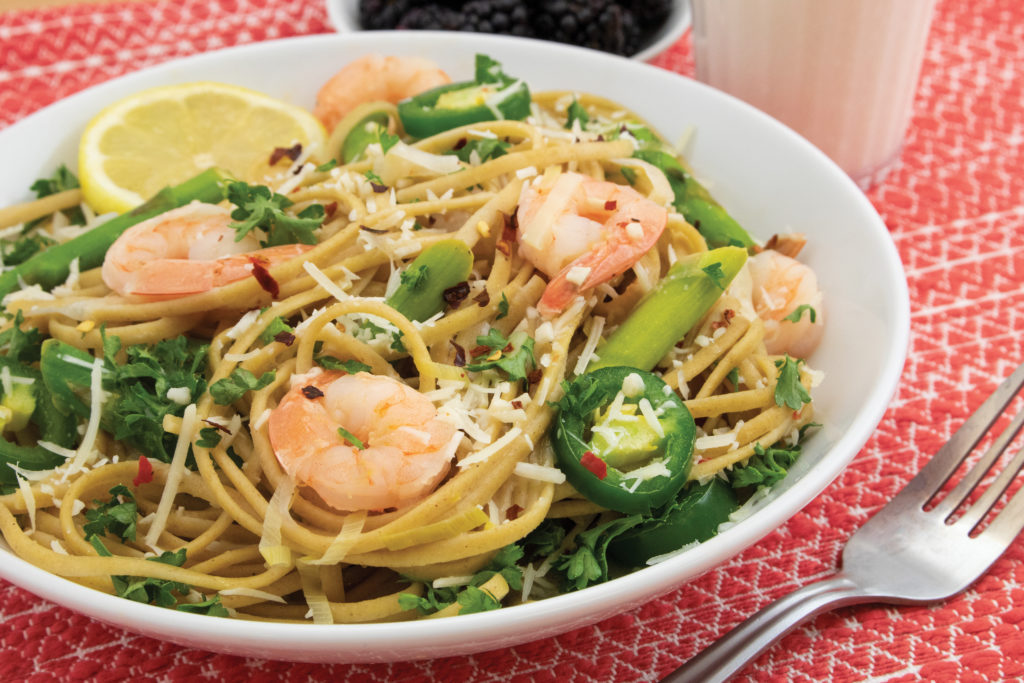 Move over ground-beef! Cubes of lean beef make an appearance in this tasty dish. Easily add veggies to this recipe by using leftover veggies such as zucchini, broccoli, spinach, asparagus, or mushrooms. Who doesn't want a taste of Tuscany in 30 minutes or less?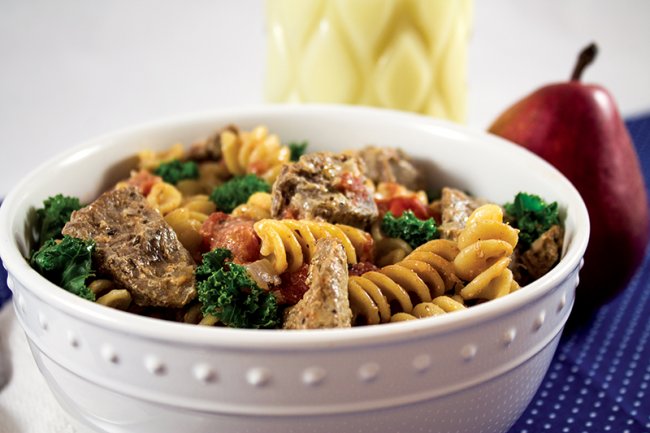 This low-sodium dish is one quick way to pack a ton of flavor into dinnertime. You can also add some of your favorite veggies such as asparagus, broccoli, or bell peppers. Leave out the jalapeno for little ones who aren't ready for spice.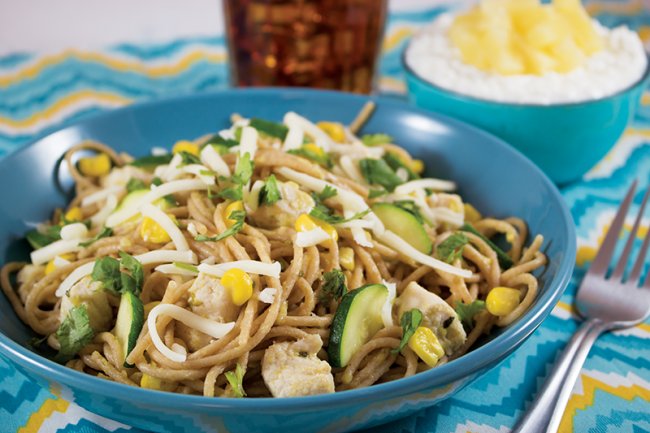 Not only is this dish great for Pasta Night, but it can also work for Meatless Mondays. Even though there is no meat, this pasta dish has a secret ingredient: white beans! Legumes, such as white beans, are filled with fiber that keeps you feeling full longer and protein to help build muscles. This is a great meal to eat after a day filled with activities.